PHOS-CHEK

What would you do to protect your family, your home, and your possessions? Most people would go to great lengths to protect the things that matter to them. PHOS-CHEK Wildfire Home Defense is a preventative measure that can help protect your home and its surroundings from the spread of wildfires.
Our mission has always been to provide healthcare to trees and plants for the benefit of the environment. Part of that means being prepared for the worst by using the best quality products. PHOS-CHEK is the most effective prevention tool available. It reduces the risk of a fire spreading and provides peace of mind for your home and property.
Why PHOS-CHEK?
California is known for its devastating wildfires due to the warm weather and lack of humidity. Because we live in a state where wildfires are so common and unpredictable, prevention and protection are extremely important. PHOS-CHEK is the most effective prevention tool available. It reduces the risk of a fire spreading by reducing the combustibility of fuels.
Top quality: Made under USDA Fire standards. PHOS-CHEK Home and Property Defense is made of the same formula that Forest Services use to put out wildfires. Now it's available for your protection.
No color: A colorless spray that's powerful and discreet.
People, pet and environmentally friendly: Safety is always a priority for us. Using PHOS-CHEK won't compromise the health of the environment, your pets, or the people in your life.
Long-Lasting: One application can protect your home for months saving you time and money and providing you with peace of mind.
How Does it Work?
PHOS-CHEK Wildfire Home Defense is a fire retardant spray designed to prevent the spread of fires and protect your home and property. It works by creating an invisible layer of protection throughout areas that are exposed to the elements.
Wildfires begin with a spark. They tend to quickly spread due to weather conditions and are fueled by their surroundings. Unfortunately, thick vegetation, plants, dry grass, and trees are all fuel for fires. PHOS-CHEK Wildfire Home Defense works by changing the molecular structure of organic materials so that they no longer act as fuel for the fires.
It is applied by spraying throughout the outside of the home and any outbuildings. It is sprayed throughout the exterior of the property over any vegetative fuel sources coating it with a protective layer that starts working right away.
Spray Over
Mulch
Wood
Leaves
Needles
If you want to protect the things you care about, give us a call and ask us about PHOS-CHEK Home and Property Defense.
Discover the ways OC Arborists, Inc. commercial and residential tree services can manage and maintain the value of your property. Reach out to us today!
Request an Arborist Quote!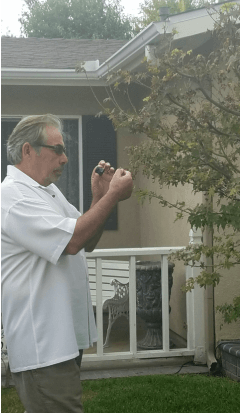 Fred De Maria
---
Fred De Maria has been in the tree industry since 1984. He is a Certified Arborist and currently serves as President of Orange County Arborists, Inc. His expertise includes appraisals, tree preservation, tree and palm problem diagnosis, risk management, species selection, tree health monitoring, proper trimming techniques and ornamental pruning. Fred has consulted for insurance companies, developers, home owner associations, commercial property owners and managers, and private home owners.
Education
Golden West College
University of Riverside (courses pertaining to arboriculture for certification)
1984 Ca. contractor's license # 515426
1993 Arborist Certification from International Society of Arboriculture (ISA)
Continuing Education Courses in Arboriculture required to maintain Certified Arborist status.
Qualified Tree Risk Assessor